Reflecting on the upcoming election and the placement of planets around the cardinal axis, a.k.a. on the world's stage, I think of the antiscia of Mars Pluto on that day and my mind goes to the notorious tennis hot head John McEnroe.
In McEnroe's birth chart the closest aspect (less than 20'min of arc) is a Mars Pluto square. I think his outbursts provide a nice illustration of the energy. No doubt we also experience his Mars Jupiter opposition, Jupiter dominating Mercury by square, and Moon Mars separating conjunction - adding to the exaggeration and intensity.
On Tuesday, Election Day, a day ruled by Mars, the antiscia of Mars Pluto becomes exact at just about the same time both the Sun and Moon come to the cardinal axis (15 Scorpio and 15 Leo). The Sun rules the day, the Moon rules the hour. The Moon is also the public. Between 7:00 and 7:30 pm EST (4:00/4:30 pm PST) all of these points come to precise antiscia & contra-antiscia - we can expect this hour and those leading up to it to be exceptionally intense. (No surprise.)
Another interesting thing to note about the day is the placement of Kronos.
Kronos rules government and authority, things that are grand, tall, and above average. As stated in Alfred Witte's book Rules for Planetary Pictures, Kronos is executive power. Kronos stands at the exact opposition of Pluto and so joins the antiscia to Mars. Mars Kronos and Pluto Kronos according to Arlene Kramer are: "Procedure dictated by the power of the government. Power of the state. Autocratic. Great leader and organizer." and "Great changes. Changes in the form of government. Change of boss." etc. I don't think we should assume this translates to a change in leadership or a win for Romney though. Why? Because Kronos is much more active, activated, and activating in Barack Obama's chart. (This is in addition to many other factors I'm not addressing here.)
Election Day on the 90 degree dial. (No need to be afraid of the dial, it won't bite.)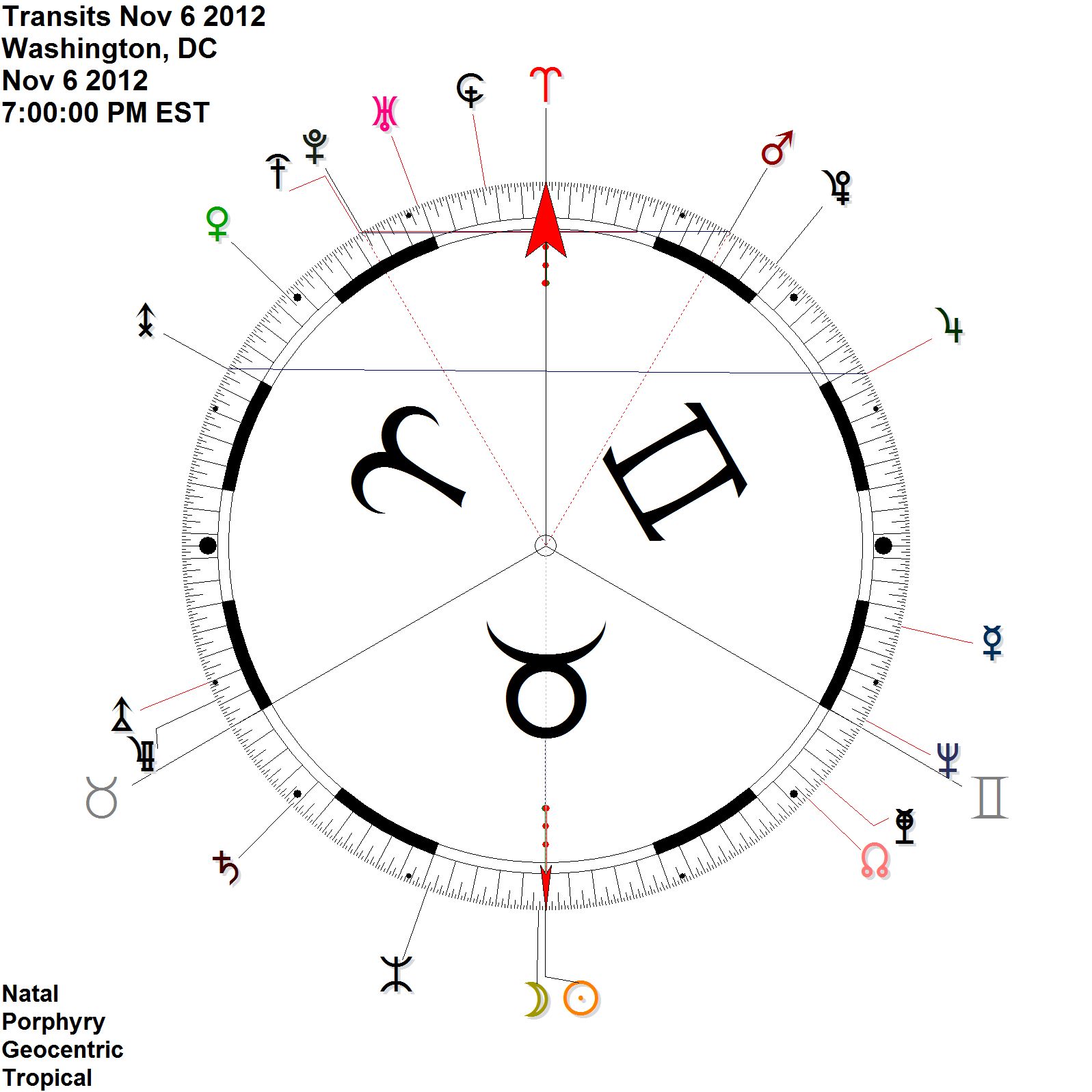 Doesn't that just look like the chart of an election? I think so.
In addition to the Mars Pluto Kronos antiscia above you can see the Sun and Moon directly on the cardinal axis. You also see Zeus connecting to Jupiter. I know that sounds redundant (Jupiter|Zeus) and it is sort of. Successful leader, work,fireworks... Zeus and Kronos together makes "a great commander-in-chief".
In Obama's natal chart the Moon is conjunct Kronos and in a precise square to Zeus (highlighted with the blue circle below). This makes him a Zeus|Kronos type of person since the Moon is an important personal point. Interestingly transiting Pluto|Kronos have moved into the exact midpoint of Obama's Sun and Moon - a highly charged spot! On the dial below you can see transiting Pluto|Kronos circled in red picking up his Sun and Moon. To me this seems like an auspicious signature for the growth and development of great leadership ability and power.
In Romney's chart the transiting Pluto|Kronos is at the precise midpoint of his natal Sun|Hades and Vulcanus|Hades. (Romney also has Hades at the midpoint of his Sun|Moon natally, while Obama has Sun|Moon = Cupido; this says a lot, as Hades has to do with secrets and filth, and Cupido signifies family, community, and society. Just to be clear: having Hades at the midpoint of one's Sun|Moon is not a bad thing, it would be excellent for a psychologist, investigator, astrologer, nurse, or antique collector for instance; however without an outlet like these the potential for a more negative or secretive expression, preying on the hardship and suffering of others for example, does exist. And yes, I'm aware of my bias coming through - I do not think Romney is a morally good person.)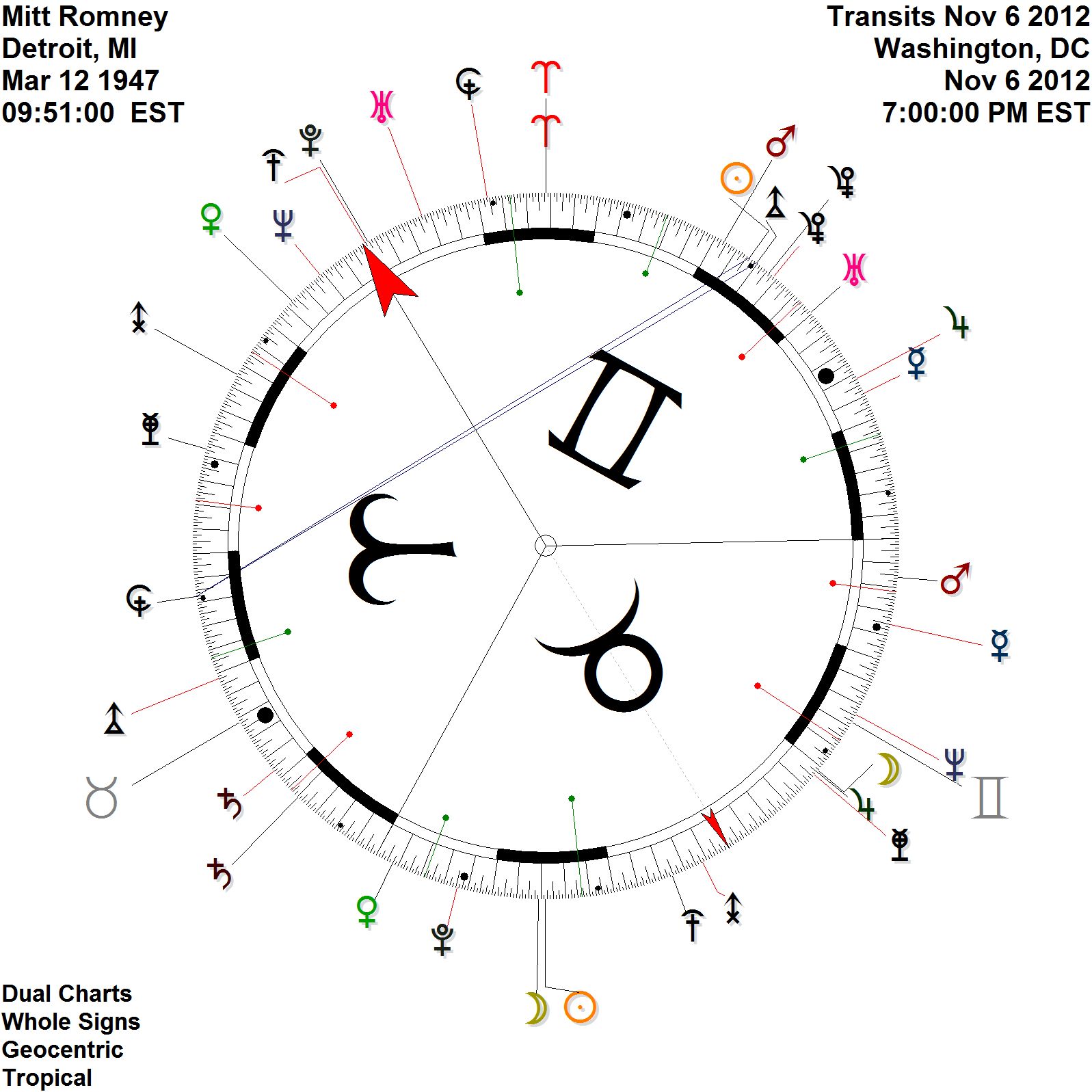 So what does the above Kronos transit mean for Romney?
From Witte's Rules for Planetary Pictures:
Vulcanus + Hades - Kronos: "Gigantic crimes and evil deeds. Heavy oppression and suppression by governments and ruling powers."
Sun + Hades - Kronos: "Physical difficulties or restrictions through the state, officials or superiors. Pursued by misfortune through higher power. Leading among criminals. Crime sanctioned by the government."
Is it just that these things may be coming more into the light? (Like his auto bailout profiteering.) Or is there more to it? I guess we'll have to wait and see.
If Romney were to win, I believe it would be another one of his grand (and/or sanctioned) crimes. But I don't think he will.
There is so much more to be unpacked within these charts, as I'm sure you're gathering, especially as we begin to look at transits and midpoints. This is not in any way a thorough delineation of the charts or a prediction really. Mostly I wanted to share what I thought the energy of the day might feel like (Mars Pluto: McEnroe) and to use the Election Day chart to show the power and impact of the transneptunian Kronos.
It's a wild time. All the world will be watching on Election Day - made very clear by the Sun and Moon on the cardinal axis.
Oh.. on Election Day in addition to exercising your right to vote, I highly recommend some literal exercise as that Mars Pluto will be felt by all!
Take care and feel free to leave comments, questions, or feedback.